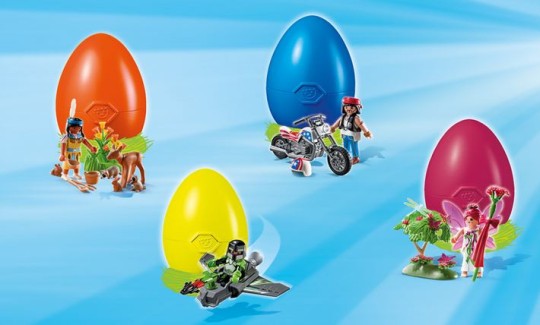 Just before Easter we told you about the Playmobil Easter Eggs and we know you loved them as much as we did.  While this deal is HUGE in my personal opinion - I'm about to send my husband out to check our local store and it's just before 10pm! - it's going to be hit and miss, but for those of you who get it, the saving will be massive. These normally sell for around £5.99 - £6.99, but they're apparently showing up on the shelf for £4, but scanning through for £1.
While these are Easter egg shaped, their contents aren't Easter themed, so they are just perfect for any time of the year. And I'll tell you that my girls have played more with the eggs than the contents in the weeks since Easter. They just love them.
To refresh your memory:
There are four different eggs, The Flower Fairy With Enchanted Tree, Native American Girl With Animals, the Robo Gang Spy with Glider and the Biker, and each egg comes in a different colour, with it's own filling, so you know what you're buying from the outset.
We hope you find some!
Thanks to lanal at HUKD for the heads up!