Playmobil Advent Calendar Pony Farm £14.24 Delivered @ Argos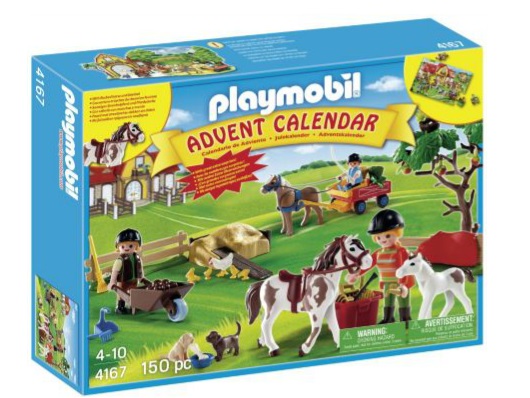 Argos are selling this Playmobil 4167 Advent Calendar Pony Farm for £14.24 reduced from £18.99. It's currently £17.99 at Amazon, but there's also free delivery on this one from Argos, so it's all round the best deal.
We can't decide, in our home, if it's too early to be buying Christmas presents or not. By which I mean, I'd like to get it all done and dusted by the end of October so the savings are higher and the stress is off, but my husband is more of the pop over to Sainsbury's on Christmas eve variety.
This advent calendar gets really good reviews. Behind each of the 24 doors is a surprise item and on Christmas day, you'll have enough Playmobil pieces to create a sweeping countryside scene.  There are figures, ponies, a cart, chickens, and lots. You can have even more fun by assembling the mini Pony Farm puzzle and adding spots to the horse with velvet adhesives.
They reckon this set is suitable for children over 4, and if it's anything like the stables we have, would go down a storm!