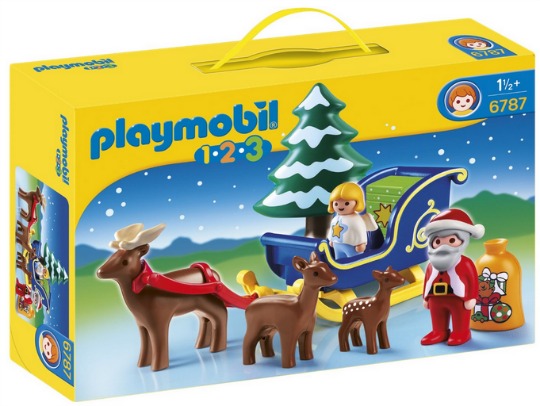 Playmobil is always a popular choice with children and has been for many years. This Playmobil 123 Santa Claus with Reindeer Sled is now only £9.99 from Amazon. A great price for this imagination fire upper. Normally this sells for around £12-13 mark so this is a nice deal for such a festive toy.
This is just SO cute, and I will be buying one. Our Christmas is ALL about the kids, just like 99.9% off you out there. I plan on using this for the centrepiece for our Christmas dinner table. Normally, the theme is very grown-up but the kids will go daft if I decorate the table in a childish way.
In this Playmobil set you get Santa Claus, three reindeer one to pull the sleigh, the other two to slack off. You obviously get the sleigh too, and also a lovely Christmas Angel.
Since this particular set is part of the Playmobil 123 range you can give it to children aged eighteen months and above. There no small bits for children to choke on, so it's fine.
Add on something cheap to get FREE Super Saver delivery from Amazon. Your order must be £10 to be eligible. Something like this Whisk* for 60p.