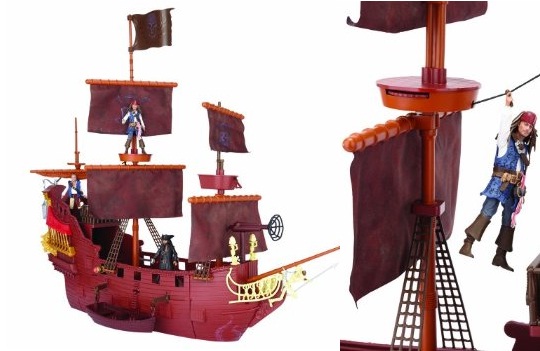 My six year old son adores Captain Jack Sparrow. I am not sure how I feel about that. Perhaps a little bit wishful that he could pick a better role model. But he loves pirates, and while we won't let him see all the Pirates of the Carribean movies (some scenes he's just not old enough) he got the latest one on DVD for Christmas. Which is how I found this bargain - he wanted to get a the pirate ship (he already has the Black Pearl and the Flying Dutchman). Amazon has reduced this Pirates of the Caribbean Queen Anne's Revenge Pirate Ship down from £69.99 to £24.49. Delivery is free with Amazon Prime.
This ship is from the fourth movie, Pirates of the Caribbean: On Stranger Tides, where the adventures of Captain Jack Sparrow take him to the Fountain of Youth.
From the customer reviews, the detailed description on the website (see below) is a bit misleading. You don't get the long boat or the treasure chest with the ship - you have to buy those separately. And you only get one cannon. However, as the price has been reduced by 65%, it is much better value.
You can recreate the action packed battles by rotating the crank for duelling action using the rotating battling platform, sliding along the zipwire and firing the working projectile cannons to take down their target. Send your pirate rivals overboard with the retractable 'walk the plank' or make a bid for escape through the escape hatch and into the a detachable long boat. What booty will be found in the treasure chests?
Features of this ship include:
Working Projectile Cannon
Launching Deck
Retractable 'Walking the Plank'
Authentic Cloth Sails
Rotating Battling Platform Barrels and Treasure Chests
The ship opens up to reveal secret hiding places, with mysterious images magically revealed with the use of the LED lights in the coin, barrel and lantern.
Compatible with all 4"/10cm Basic and Deluxe figures sold separately. Requires 3 x 1.5V LR41/AG3 Button Cell Batteries (included).