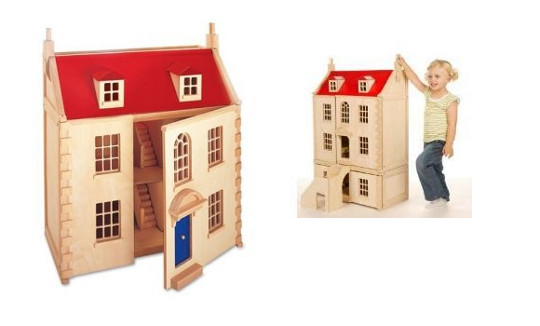 Amazon have a sale on the Pintoy Wooden Marlborough Dolls House, which they are selling for £46.89 instead of - get this -  £149.99. I've had a brief look around and the next best price I can find is £111, so this is a whopping saving on a massive dolls house.
I'm serious folks, check the dimensions before you buy this house. It almost needs its own room. Or not, but you get the point. Weighing in at 16kg, this dolls house is 1:12 to scale and stands 76.8 cm tall, by 65.6cm wide. It's billed as being for children 3 years and over and I can just imagine the joy my little girl would express if she woke up to one of these. Of course she wouldn't be able to get out of bed as the house would take up all the available floor space in her room. Sad but true.
Reviews for the house are really good and people seem to mainly love it, even though it comes flat packed.
This Georgian-style home is a double story mansion, with just four rooms. The only downside is that it doesn't come with any furniture, but I guess if you're making an investment like this, you want to really decorate the place just the way you like it.