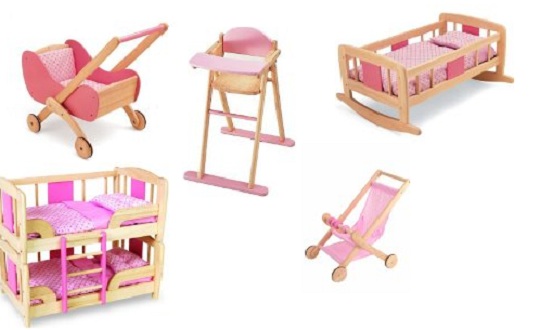 Amazon have a sale on Pintoy doll sized 'furniture' at the moment. It's not all furniture though - there's a pram and pushchair too.
Setting aside the fact that a child will as happily push around a 'baby' in a box as a pram, or put them to bed in a veggie drawer as a bunk bed, these Pintoy doll accessories are really cute - and that's coming from someone who never even had a pram or cot for her own children!
There's something about them though - my never-in-a-pram baby will still run up to a pushchair and start pushing it in playgroup. It seems inborn, doesn't it?
In this offer, you can pick up the Pintoy Doll's Buggy for £20 instead of £39.99, the Doll's High Chair for the same, and the Bunk Bed for £52.49 instead of £74.99. There's also a Rocking Cradle for £20 and a Stroller for £27.99.
Happy playing!