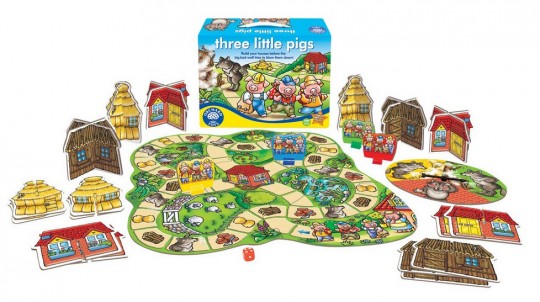 Three Little Pigs, the game from Orchard Toys is currently on sale at Amazon, where it normally sells for £11.75 but is now £6.07.
Orchard Toys are such good toys, but they're often really expensive, so on the occasions where you find them at a good price, it's worth holding on to! This simple game asks the players to roll the die to try to land on a pile of straw, sticks or bricks a pile of straw, sticks or bricks.
Each time they do so, they can take a corresponding house piece from a pile on the table. The aim is to collect both the pieces needed for each type of house, until they have a house of straw, sticks and bricks in front of them.But they have to watch out for someone landing on a wolf square. If this happens, the player spins the spinner, and this gives the wolf the chance to huff and puff and blow down one of the other players' houses. Once a player has completed all three of their houses, they have to try to get to the centre of the playing board before the sneaky wolf starts huffing and puffing again.
The game is easy to play, but players have to watch out for the wolf right up to the last minute. This game is for 2 to 4 players, ideally aged between 3 and 6, and is made of sturdy, recycled board.