Pictureka! Flipper Game £8.49 @ Play.com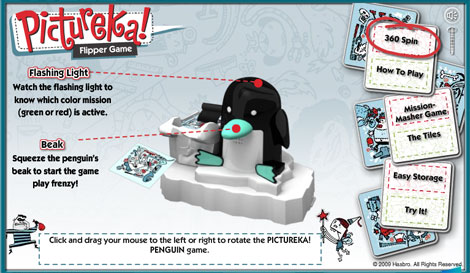 OK, I'd never heard of Pictureka! Flipper before and as I don't like not knowing things, I dashed off to consult with my good friend Google.
I distinctly remember my mum trying to get her head round some of the board games that me and my brother used to have. They weren't complex or tricky but, for some reason, she just didn't 'get' some of them and made such a hash of playing them it was unreal.
I've just found an online demo for this Pictureka! Flipper game and all of a sudden I feel like my mum! I've had to watch it a few times to 'think' that I've got a grip on what you have to do.  I've become an adult who has no business dabbling in the world of kids' games! When did this happen?!
So basically, the penguin spins round on his iceberg and he deals out cards as he goes. There's a light on the top of his head, which is either green or red, and the colour dictates what picture you have to find on the card you were dealt by the penguin.
You must try and be the first the find the picture and shout out 'pictureka!' when you have.  Geddit?
This sounds like fun, once you understand it, and according to the reviews I've read kids absolutely love it!
This should cost £24.99 but Play would like you to have it for £8.49 with no delivery charges to pay - how jolly decent of them.
Thanks to miacat over at HUKD!