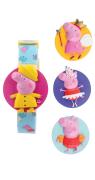 "What's the T I M E Peppa Pig?!" that's my new take on the old classic playground game!  I wonder if it will catch on....?
Kids love to know what the time is, as is routinely evidenced on most trips with the utterance of those ohhh so familiar words, "How much longer?" and, "Are we there yet?!"
Our small ones also like to feel like us and as our lives, as adults, are so intrinsicly ruled by the time it makes sense that our kids want to wear watches too - it always used to make me feel very grown-up when I wore a watch.

This Peppa Pig watch is just cute - it's cheap, it's plastic, it'll withstand hard knocks and won't be devestate the economy if it gets lost and you choose to replace it (I was a childhood master at making watches 'disappear'!).
It has interchangeable heads to lose - NO! I mean, it hasinterchangeable heads so you could say you have several different watches here for the price of one and it also comes with a clip on badge and a battery included, and delivery from The Hut is free.
Thanks to edi over at HUKD!