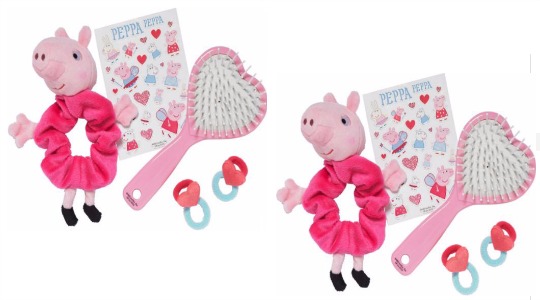 Oh my goodness, this has to be one of the cutest things I have ever found for PlayPennies. If you know someone who loves Peppa Pig then you must spare £3.99 and get them this Peppa Pig Hair Accessory Set from Argos. It was selling for £7.99 and to be honest I would have paid that just because of it's novelty value. This is ideal if you ave a little ones birthday coming up.
The Peppa Pig Hair Accessory Set contains hair brush, easy peel stickers, two heart pony, bands, two plain pony bands and a plush Peppa shaped scrunchie hair band. The scrunchie is what makes this set, it is the coolest scrunchie ever.
The brush can be decorated with the stickers in this set. That'll be fun for a little one until they start to curl and get hair stuck to them of course. The brush is a very sweet, heart shape and is made from 90% plastic and 10% rubber.
You can Reserve and Collect the Peppa Pig Hair Accessory Set from any Argos store for FREE or pay £3.95 to have it delivered to your front door.