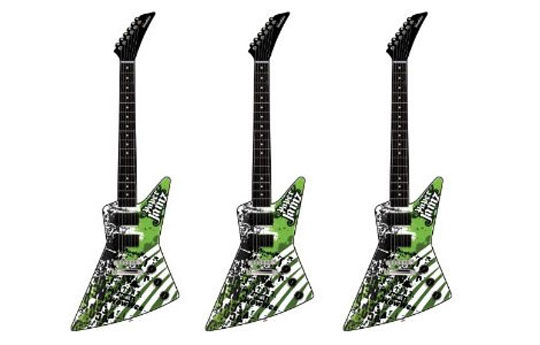 Debenhams have reduced this Paper Jamz Rock Guitar 5 down to £11 from £25, but they're going out of stock fast - the Paper Jamz Rock Guitar 4 vanished from the virtual shelves almost as I watched - so if you want one you'd better grab one.
I've written about various Paper Jamz guitars before - I'm still intrigued by them, as I've yet to get my hands on one to be able to give it a strum, but obviously not intrigued enough to part with £11 for one, let alone £25; I'd never pay £25 for a bit of paper, even if it does have amazing technology within it.
If you've never come across a Paper Jamz guitar before let me give you the quick low-down:
This Paper Jamz Rock Guitar 5 is just 3mm thick and works just like an electric guitar.  It has licensed rock tracks that you can play along to and control the tempo if you wish, alternatively you can just freestyle it whilst pretending you're the next Stevie Ray Vaughan or Gary Moore - Google them, they're two of the greatest rock guitarists who ever lived, and let's not forget the genius who is Eric Clapton!
The Paper Jamz Rock Guitar 5 has a built in speaker (you can buy paper amplifiers to plug them in to if you want more VOLUME) and, the best news, also a headphone jack so your budding rock guitarist can jam away in the privacy of their own ears without insulting yours.
If you were hoping to order and pop along to your nearest Debenhams then I'm going to be the bearer of 'bad' news too - the Paper Jamz Rock Guitar 5 is only available, at the moment, for standard home delivery.  But don't be too disheartened, it only takes four working days and is FREEEEE.
Thanks to embassy101 at HUKD