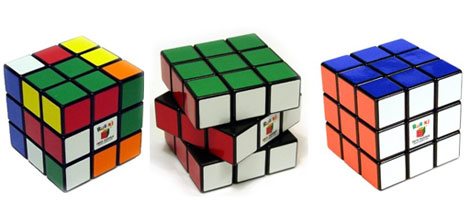 Amazon are currently selling this Original Rubiks Cube for £4.31 instead of £10.99.
I remember when the Rubiks Cube first came out.
I had one, all my cousins had one and most of my friends had one.  Could I do it? No, I could not! Did that infuriate me? Yes, it did!
One of my cousins could do it and I used to watch in awe as she twizzled the layers round and round, in a seemingly, random fashion and then all of a sudden BOOM! the puzzle was solved and every face was a complete block of the colour.
There are various cheaper immitations of the infamous Rubiks Cube out there, but in my experience the block stickers often fall off and they just don't have the same 'feel' to them as an original Rubiks Cube.
Of course with the internet at our fingertips, these days it won't be very hard to find, and learn, how to solve the Rubiks Cube - but, quite frankly, where's the fun in that?!
This isn't an Amazon deal of the week so the price isn't fixed - it's already gone up by 50 pence during the last 24 hours, so dawdle on this one at your peril if you want to pay as little for it as possible (watch them put the price DOWN again now I've just written that!).
Thanks to stango at HUKD