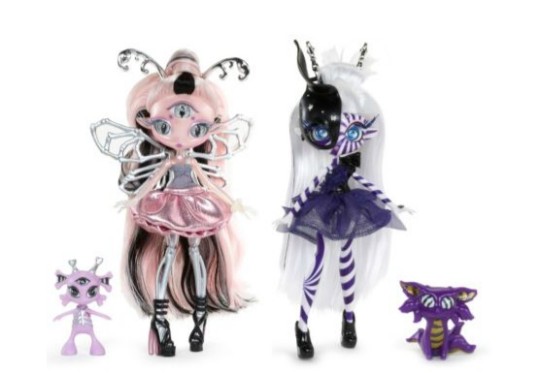 The Novi Stars Supa Nova Dolls at Argos are currently £4.99, which is down from the £19.99 RRP but in actual fact is about half the price you'll find them elsewhere. If you need them delivered you'll pay an extra £3.95 so it's ideal if you can pick them up in store.
So, these dolls are a bit weird, but they're also a little cool. My daughter has one with see-through legs, Anne Arctic, and she thinks it's brilliant.
There seems to be two you could end up with from Argos. There's Vera Tabray who is £11.99 on Amazon. She has wings that flutter and comes with her own pet. She also has three eyes, and glittery lashes.
They also have Mimi Merize who is £14.97 at Amazon, a mysterious alien with special hypnotizing eyes - just press her antenna to make them spin. 

It's one of those luck of the draw girls, but I'm sure if you go to collect you could specify which one you'd prefer!