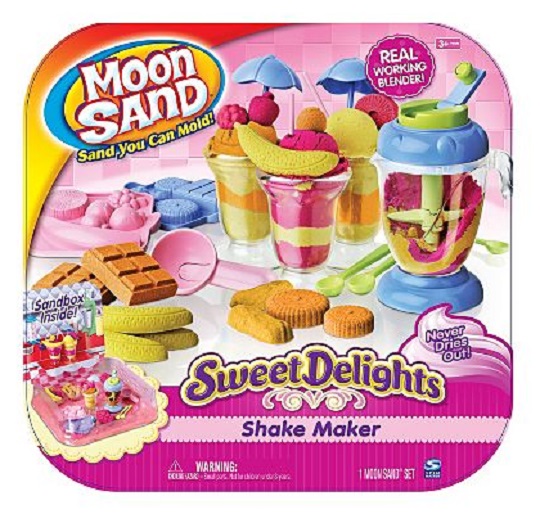 This is awesome! The Moon Sand Sweet Delights Shake Maker Play Set was £15.00 but is now half price at Asda Direct so you'll be paying £7.50 and saving £7.50, nice. With this set the kids can make gorgeous looking shakes, sundaes and even biscuits to go with them.
The kids can mix and serve their own customized Moon Sand milkshakes. They can make delicious-looking shakes and smoothies with a real, working blender with the Moon Sand Sweet Delights Shake Maker Play set. Then they can decorate their drinks with fruit and umbrellas and even bake and paint their creations to keep them.
Way cooler than earth sand, Moon Sand is the mouldable sand that never dries out. You can squish, squeeze, shape and create anything you can think of. Hold it, mould it, pack it and stack it. The sand is colourful, easy to clean up, reusable and even floats in water. It's the fun of the beach without the mess, wow!
The set includes the blender, moulds and accessories to decorate your shakes with including straws and umbrellas, a sand box for contained play and easy storage, moon sand and so much more.