Monster High Dot Dead Gorgeous 3 Pack £25 @ ASDA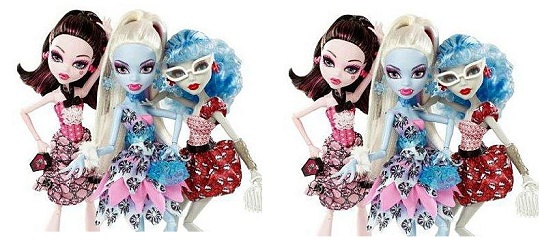 ASDA is selling the ever popular Monster High dolls in a pack of three for only £25. That is a whopping saving of £19.97 off the usual price that is £44.97. These would make excellent Christmas gifts for girls and guys that enjoy the wacky weirdness of Monster High.
Click here to get weird with ASDA*
As with all the usual ASDA deals you can arrange to save on delivery charges by doing the click and collect thing at a store near you.
The Monster High Dot Dead Gorgeous pack includes Draculaura, Abbey Bominable and Ghoulia Yelps in their high school party outfits that are designed to fit in with the theme – dots. Yes, dots. I didn't realise that dots were a theme…
Anyway the dolls are all dressed in gorgeous fashions with funky shoes an accessories and hours of fun for the kids. My daughter has some of these dolls and they are rated very highly, far more so than Barbie interestingly. And they are perfect for a Halloween deal!!