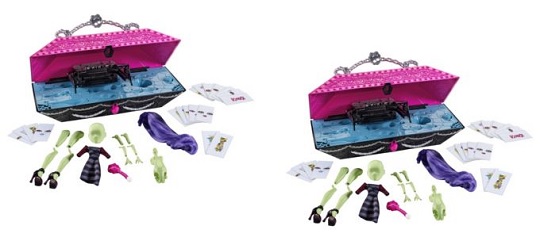 Monster High fans can build their very own unique monster for £29.99 from Sainsburys. This super cool and scary kit was £39.99 so you'll be saving a smashing £10.00.
Now ghouls can build their own unique monsters, just like those at Monster High. And for even more monster customization, they can use their very own Create-A-Monster Design Lab. Ghouls simply choose designs and insert their monster in the lab, then activate. When the light stops blinking, ghouls remove their newly designed monster with its fresh designs attached. That's so cool.
The laboratory comes with lots of 'skins' to create a multitude of combinations and includes a head, a body and a detailing tool, awesome. Those Monster High fans out there can create whatever grotesque mix of skins and body parts they wish and then make it completely unique by giving it their own features. It sounds ridiculously fun even if a little weird and revolting but then that's the beauty of Monster High!