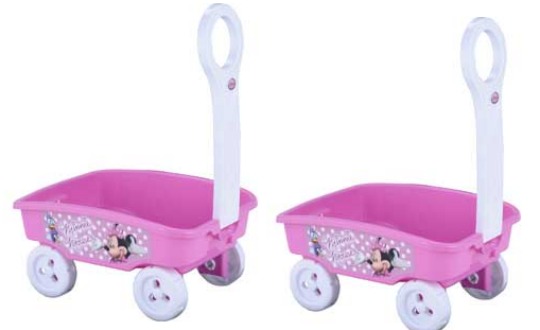 My son has a toy wagon, he is 18 months and drags it around everywhere. He even sits in it to watch Peppa Pig. It only cost me £5 for it and it was worth every penny. This Minnie Mouse one is exactly in shape and size, but is cheaper at £3.99. Argos were selling them for £9.99 before reducing them to this great low price.
The thing that I like about the Minnie Mouse Wagon is that it can be used for toy storage or even for books. I don't like to have toys scattered across the house, unless they are being played with at the time, so this is ideal for teaching the children who to clean up after themselves. It's a real fun way for them to 'put the toys away', at the end of the day.
Your child can wheel anything around in it and can even take it down to the local park if they liked. They aren't too heavy, but aren't flimsy either.
You can Reserve and Collect the Minnie Mouse Wagon for FREE from an Argos store near you or pay £3.95 to have it delivered to your front door.