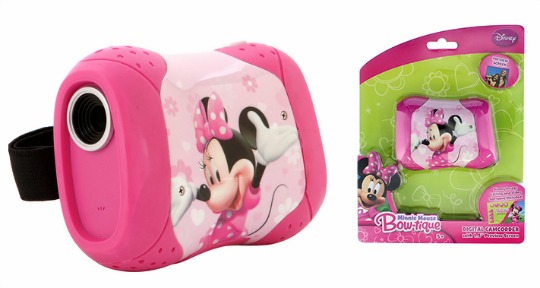 I have been toying with the idea of getting my 3 and a half year old a children's camera for Christmas this year. We always take lots of photos and she is always using my camera to take pictures. I love the idea of being able to see things through her eyes. I am now thinking of getting her this Minnie Mouse Digital Camcorder from Home Bargains. It is a brilliant price at just £9.99 instead of its normal retail price of £24.99.
This digital camcorder is great for little hands who want to capture their very own moments. It has a 1.5" preview screen so you can view what you have recorded, prefect for creating your very own movie. It is very easy to use and is suitable for ages 5 and a half upwards.
You can edit and share pictures using the editing software CD that is included with the camcorder, this enables you to make slide shows or movies from your film. There is also a memory card slot however no memory card is included within the set. This would make a brilliant Christmas present for any little one and for less than a tenner its a cracking deal too!
Home delivery only on this item, prices start from just £0.50.