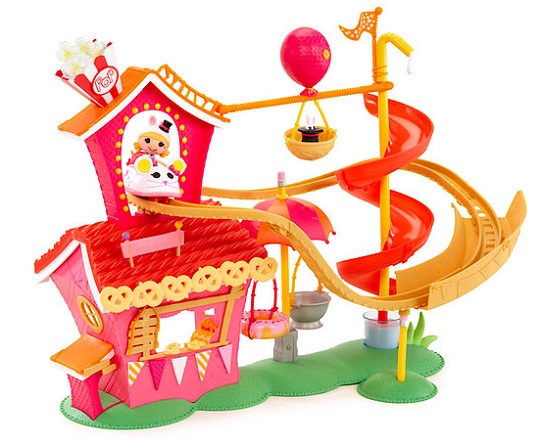 Lalaloospy dolls are out for fun and excitement with this cool paly set. Save 25% on the Mini Lalaloopsy Silly Funhouse Park Play Set from The Toy Shop. This fun set, perfect for all Lalaloopsy fans, was £39.99 but has been reduced to £29.99, £10 off, smashing.
Grab a ticket to the topsy turvy Mini Lalaloopsy funfair and hours of fun with the Silly Funhouse Park Play Set. Your kid's thrill seeking mini Lalaloopsy dolls can ride the rollercoaster, zip down the winding slide and brave the heights of the swinging baskets in this bright and colourful two-sided play set. I love the huge popcorn box sticking out the top of the building and the doughnut swing ride.
The set is highly detailed with lots of moving parts and comes with an exclusive Misty Mysterious Mini Lalaloopsy doll figure and her pet. The set also comes with a rollercoaster car and five play accessories, awesome.
Hurry to pick up this great deal from The Toy Shop while it's still on offer.