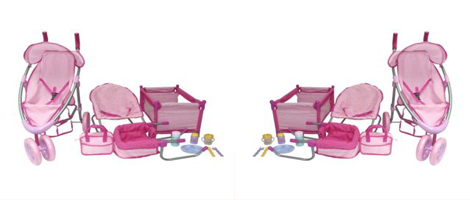 This mega doll accessory kit is part of Sainsburys half-price toy sale and is pretty darn awesome for any little girl (or boy) who has a little doll in need of some extras. The entire kit was £28.99, so this price of £14.49 is really, really good. Fab Christmas pressie right here!
The mega five-piece baby doll accessory set includes a ton of ace stuff. You get a baby stroller that looks like one of those fancy schmancy expensive ones that amble about the place. You also get a cot for baby to sleep in, a baby bouncer, a chair that clips onto a table, plus a bag to carry essential changing gear.
If only this price was for the real things, having a baby would be fabulously cost effective.
The kit is ideal for kids over the age of three and really is quite adorable. You also get some eating implements so that they can feed baby – this will be fun for mum when she has to clean the food OFF baby, but anyway.
A great half-price deal on a great Christmas present.
Thanks to 5426angela at HUKD!