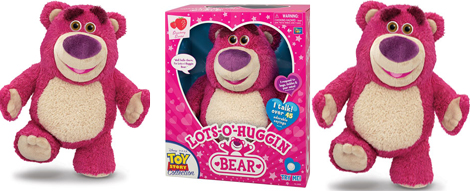 This is another of those extremely very popular toys this year. The Lotso Huggin Bear from Toy Story 3 is not just any bear, he has tons of extra features, is absolutely hewg and he smells like strawberries. Usually retailing from around £40, this is a good price from Smyths.
The Lotso Bears on sale at Smyths are not available online because of the huge demand. In fact, you are only allowed to get one per customer. Which is fine by me, I don't really want an army of Lotso's in my house even if they do smell of strawberries.
You can check your local store's availability and get the on-shelf promise of booking a bear for yourself. Now, on to his features. He has interactive bear mode for cuddles, if you press his paws he'll talk, if you tickle his feet he laughs and talks.
You will need batteries to keep this guy going. Now I have to say that having seen photos of him next to normal sized toys I can confess that he's really quite big. It is a lot to pay for a toy but this is the lowest price I've seen for a while.
Thanks to epcott1982 at HUKD