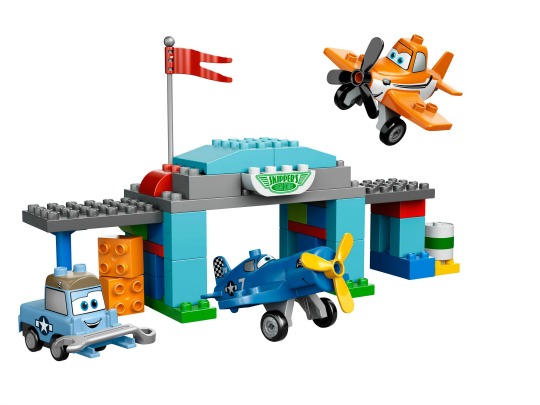 My kids are probably a little beyond the age range for Lego Duplo but that didn't stop their eyes from practically popping out of their heads when they spotted this Lego Duplo Disney (available from Amazon*) planes set, which we were sent to review for Playpennies.
There are three Disney Planes themed building sets, each featuring different characters and secenes from the Disney Planes movie.
There's the Dusty and Chug set (RRP £14.99, item code 10509), Skipper's Flight School (RRP £29.99, item code 10511) and Ripslinger's Air Race (RRP £19.99, item code 10510). We received a review sample of Skippers' Flight School.
The accompanying press release promised:
"Pre-school children everywhere can now bring their favourite characters home and have hours of fun with these sets. Offering endless possibilities to play, children will love recreating scenes from the film, as well as making up their own stories and helping Dusty to overcome his fears to reach heights he never dreamed possible."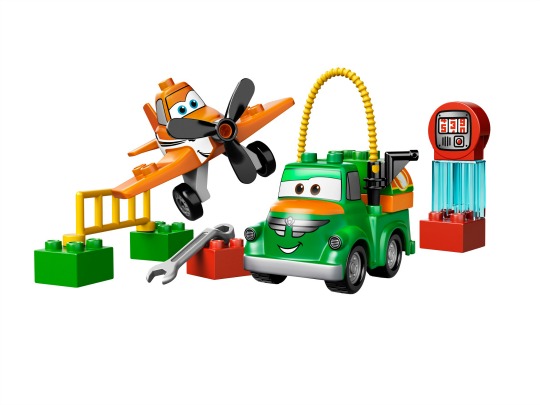 And that's pretty much exactly what happened when my kids got their mitts on this playset. They weren't actually huge fans of the Disney Planes film originally - being die-hard Disney Cars fans they were a little underwhelmed by Planes, but that didn't stop them whooping with delight at the sight of this Lego Duplo set. And re-enacting scenes from the film is just what they did. In fact I'd say their alternative scenes were infinitely better than the movie, and Disney should totally think about recruiting them as screenwriters when they're older.
That's what I love about Lego Duplo - it fires my children's imagination and gets them imagining all sorts of action scenarios, and engaging in elaborate role play. And that's after they've built the play sets up, which is great for developing those fine motor skills (essential for pre-schoolers to develop before they're ready to learn how to write) and, with older kids like mine, great too for helping them read instructions!
What else is there to say about Lego Duplo? It's got to be hands-down one of the best kids toys of all time. My children are actually really into Lego now, so I had wondered if they might find the Duplo a bit babyish, but I needn't have worried. In fact what still appeals to them about Duplo over Lego is the fact that it's more robust and so less likely to smash into smithereens when they re-enact elaborate crash scenes.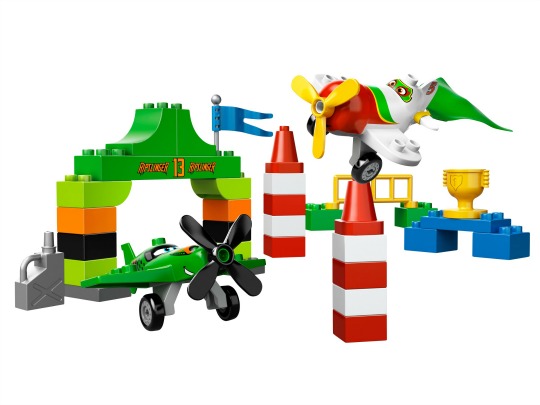 These playsets are well worth the price tag and seem to include just enough bits and accessories to engage children's attention and imagination, without there being so many bits and pieces (as with some of the Lego sets for older kids) that once you've lost one or two the whole set is defunct.
I'll be honest: I'm not usually a fan of 'branded' Lego sets as I find my kids tend to forget that they have imaginations of their own, and once they mislay two or three pieces of the branded sets (which ALWAYS happens in our house) they act as if the sets are unusable, instead of seeing that they have piles and piles of Lego with which they can create their own unlimited play sets.
That really frustrates me, as it means we have buckets of Lego but they're never satisfied and still want the latest 'must-have' set when birthdays or Christmas roll around, plus I hate that branded sets limit their creativity, whereas a  box of plain old-fashioned Lego bricks tends to fire it up. Duplo isn't as bad as 'proper' Lego for that - for one thing the pieces are much less fiddly and so less likely to get lost, and the sets are quite simple so if you do lose a key item it's fairly straightforward to replicate it if you have other Duplo bricks to hand. And that's one of the best things about Lego Duplo - the fact that you can use existing sets to create bigger playsets.
Overall, I'd recommend these Disney Lego Duplo playsets if you have a little fan of Disney Cars to buy for this Christmas. It's a robust, sturdy and long-lasting toy and the packaging alone will totally enthral fans of the movie.
Pros More than one character with each set, so great fun for using on a playdate or with siblings.
Cons Not the most affordable gift you could buy but Lego Duplo is virtually indestructible and it built to last - in this case you get what you pay for.
Overall A great buy, particularly for kids who loved the Disney Planes movie.
For stockist's details visit www.duplo.lego.com