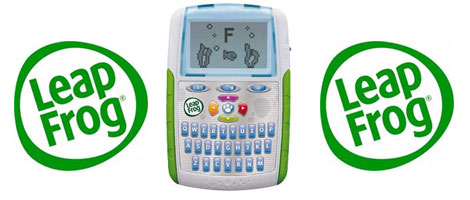 Argos are selling this Leapfrog Scout Text and Learn gizmo for half-price - £9.99 instead of £19.99.
I wrote about this Leapfrog Scout Text and Learn way back in 2010 - I wasn't sure what I thought about it back then and was rather 'worried' that something dubbed text and learn would be teaching a generation of youngsters how to talk and type in text speak; I loathe text speak!
But having watched my youngest play with apps on his iPod Touch and on his dad's iPad (he hasn't got one of those yet, but he's working on it!) I'm pretty confident that toddlers text-speaking as a result of playing with the Leapfrog Scout Text and Learn is remote.
SO, the Leapfrog Scout Text and Learn  has a full Qwerty keyboard which will help them become familiar with its layout; fight it all we like, keyboard skills is something which will serve them well.
It has three learning modes so your child can practice with letter names and sounds, they can also exchange messages with their puppy pal scout (three year olds texting, I almost feel I should go and wash my hands!).
The LeapFrog Scout Text and Learn Messenger comes with the 3AAA batteries it needs and you can either arrange to collect your Leapfrog Scout Text and Learn in-store or, if you can't get there for whatever reason, you can pay £3.95 and have Argos deliver it to you instead.
Thanks to E-way at HUKD