Leapfrog My Pal Scout £13.50 @ Sainsburys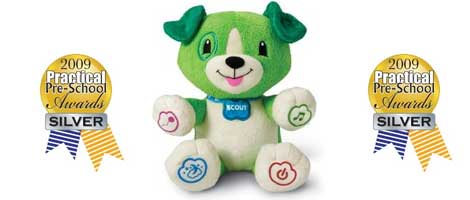 If you buy an award winning Leapfrog My Pal Scout from Sainsbury's, you'll get him for £13.50 instead of £17.99.
You really won't go far wrong with anything Leapfrog.
Their educational value is fantastic; their fun value is just as good and their build quality and value for money is excellent.
Here's what you can expect from Leapfrog My Pal Scout!
He's a cute little interactive puppy who connects to the computer; you can tailor him to the wishes and whims of your child through customising the music and personalise learning with your child's name and favourite food, animal and colour.
Leapfrog My Pal Scout comes with five, pre-loaded songs. If your little one is a bit of a music butterfly, you can download more learning tunes and lullabies from an online list of 30 songs.
The learning skills include first words, daily routines, early number sense, feelings and emotions, and animals.
Leapfrog My Pal Scout has icons on his paws that indicating what each one does - press a paw to play music, to learn or hear songs and play games, another turns him off and the other is sleep mode which triggers the blue nightlight in his collar.
He'll need 3xAA batteries and is recommended for children from one year, although reviewers have bought them for children younger than this and they love him too.
Thanks to leanneduk_89 over at HUKD