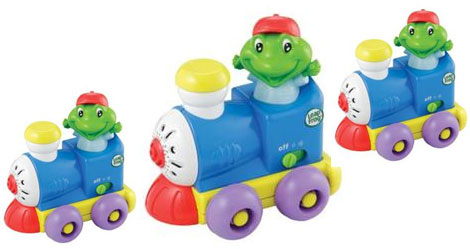 Play are currently selling this Leapfrog Musical Movers Counting Choo Choo for £3.99; Mothercare are selling it for £4.99 and it's rrp is £14.99.
By all accounts this Leapfrog Musical Mover Counting Choo Choo has one of THE most annoying songs ever!
"1, 2, 3, 4, 5 all aboard the counting train....6, 7, 8, 9, 10 choo choo, Tickets please...." is how it goes, according to an HUKDer who can't get it out of their head.
I think the Leapfrog "I'm Farmer Tad, I had some pigs, oink-oink-oink-oink-oink!"' farmhouse electronic cube book thing my youngest was given for Christmas one year could rival that!
Whether or not it's annoying, you can't argue against the fact that kids LOVE this sort of thing.
And I ask you, what price is the early learning of numbers  for your child compared to a bit of having to put up with a song that will haunt you for many MANY years to come?
I wish you could hear me giggling away to myself.  You see, I'm far far away from having to consider toys like this and know that it won't unexpectedly pop up as a Christmas gift for any of my children.
Delivery is free with Play and you have zakeriyah at HUKD to thank for this post (I'm just the messenger *grin*)