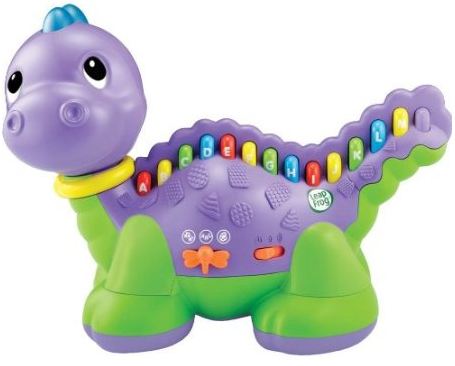 Amazon have reduced the LeapFrog Lettersaurus by 33% from £14.99 to £10.11, saving £4.88 and including free delivery.
The Lettersaurus is a dinosaur shaped alphabet toy with 26 colourful letter buttons on the back, rewarding children with the familiar tune. Pressing his head makes him sing the Alphabet Song which makes them familiar with the sounds. Actually I was pretty shocked recently to find my three year old singing the alphabet song because we visited people with a toy that sang it a few months back. The first time I heard her singing it, I asked where she'd learned it and she told me it was that toy, four months ago! So they really are sponges, these children!
The Lettersaurus roars, sings and learns letters that helps little learners explore letter names, letter sounds, colours and music. You can even make letter learning a personal experience by adding in the first letter of your child's name they will hear a personalised response when they press that letter e.g "L! That's the first letter of your name!"
This toy is suitable for children from about 12 to 36 months and speaks with a British voice. It requires batteries, which are included, and uses lower case letters, which are the first letters children in the UK learn.