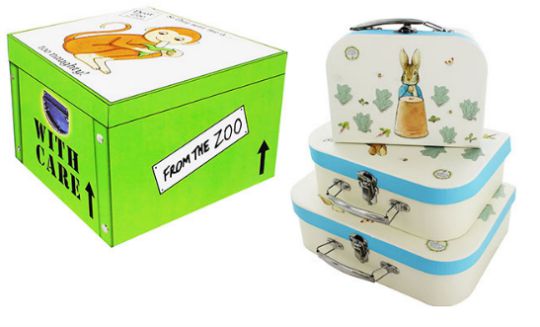 The Works can really shock me with the lovely stuff they stock. I am not a huge fan of their stores, over-stocked and a lot of tat. However, I am much more favourable to their website, where you can actually have a proper look at what they are selling. We have found some right gems the last week and we shall keep looking for even more. Just now, we are loving this Two Large Storage Boxes for £10 selection. There's something for the kids' rooms as well as the adults. Use promo code FREESHIP10at the checkout and get FREE delivery on them too!
Toy storage is always welcomed by us parents. There's nothing worse than walking into a kid's room and trampling all over the toys you spent £££'s on. Check out these Children's Large Storage Boxes in the TWO for £10 offer: Dear Zoo Monkey Collapsible Box*, Dear Zoo Elephant Collapsible Box*, The Simpsons Storage Box*, Dr Seuss Green Eggs and Ham Box* and Peter Rabbit Set of THREE Suitcases*.
These Suitcases* and Round Storage Cases* would be an interesting way of presenting a gift for a birthday or even Christmas.