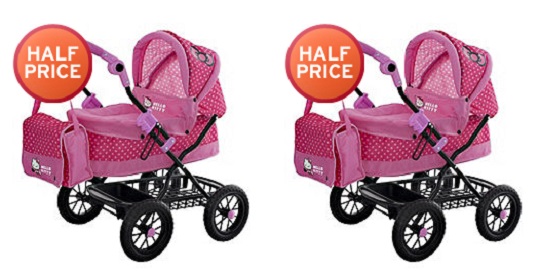 This is the ultimate in dolls' prams for all those Hello Kitty fans out there. The Hello Kitty Coupe Pram is half price at the moment at Sainsburys. It was £34.99 but has been reduced to £17.49 so you'll be saving an awesome £17.50!
This is an absolute must for serious Hello Kitty fans. The stylish doll's pram with super cute coordinating bag and a handy tray is ideal for shopping or any other adventures with the girls. Your little one will love taking her doll with her wherever she goes and pretending to be a mum with the nappy bag full of her baby's goodies.
The Hello Kitty pram is beautifully presented in Hello Kitty polka dot fabric with a cute bow detail, and will take dolls of up to 50cm in length. The pram and accessories are suitable for children aged three to seven years. The handle height is adjustable to a maximum height of 74cm, and the pram folds flat for easy storage.