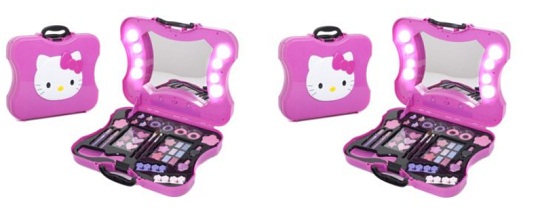 The Hello Kitty Cosmetics case was on sale for £19.99 at Sainsburys but has now been reduced to £9.99. This is a whopping saving of £10 off the original price and you can arrange to collect it instore for free, or add it to your monthly ship over £50 for free home delivery.
This attractive cosmetics case features a cool light-up mirror so little ones can glam themselves up just like their favourite sueprstars. It comes with a carry handle for easy transportation and comes with plenty of cosmetics and accessories inside.
The set is suitable for kids over the age of 5 and needs three AA batteries that are sold separately. I am not sure what cosmetics you get in the case but some of them definitely are lip gloss, lipstick, eye shadow, and glitter gel. I don't really approve of kids wearing make-up, but for parents who don't mind, this is a great price for a lot of stuff.