My First Kitchen £6 @ Amazon/The Entertainer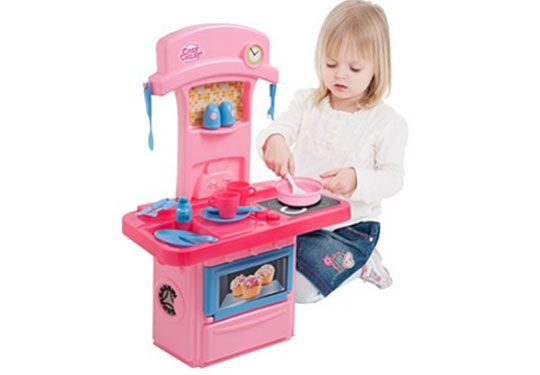 Are you in the market for a play kitchen?  If you are, you can pick up a My First Kitchen, via Amazon, from The Entertainer (or directly from them) for £6 instead of its usual £20.
Now (for all those who loathe play kitchens as much as I do) forks, to poke in your eyes, at the ready; here we go...
This Cosy Cottage My First Kitchen is pink (what else!), stands at 60cms tall and features a hob, toaster, sink and an an oven complete with opening door - well, it would be a pretty useless oven without one!
It also comes with 14 accessories: two plates, two cups, salt and pepper shakers, two knives, two forks (ooooh goody, where are my eyes!), two spoons, a spatular and a frying pan.
For all my gender-stereotyping-hatred of play kitchens, at least this one attempts to redress the balance by mentioning dads in the cooking equation, and I quote, "Little ones who love copying mum and dad will cook up a storm in My First Kitchen."
The price of this My First Kitchen is exactly the same whether you decide to order one via Amazon, or directly from The Entertainer - £6 plus an additional £2.99 for delivery.
However, if you order directly from The Entertainer, and live close to an Entertainer/The Toy Shop store (I wish they had a single identity!), you'll have the option to collect it for free.
Thanks to chuckiedoll at HUKD