Kids Walker with Bricks £10 @ Mothercare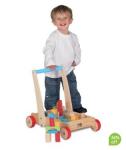 Mothercare have reduced this wooden walker with bricks from £25.00 down to £10.00 - HURRAH!
At LAST! A deal for something I don't want to buy because my youngest would love it!
He would love it actually; the reason I don't want to buy it...? We already have one!
It was one of the early wooden toys we bought for him,  mainly for the block to be honest, and we spent hours just sitting and chatting (I chatted, he babbled at me) and seeing who could build the highest tower - ok so I built and he knocked down.
He also really loved sitting IN the walker thing and being pushed around the lounge by the Teenagers - multi-purpose toys, that's what we like!
I was surprised at how expensive wooden walkers with bricks were though, so to be able to snaffle one for a tenner is a bit of a steal in my opinion.
You can order this online and arrange to collect it from your nearest Mothercare OR, if you'd prefer, you can pay £4.95 and their lovely delivery team will drop it off at your house for you.
Happy walking and tower building!
Thanks to cooldude01 over at HUKD