Kid's Patio Furniture Sets now from £14.99 in store @ B&M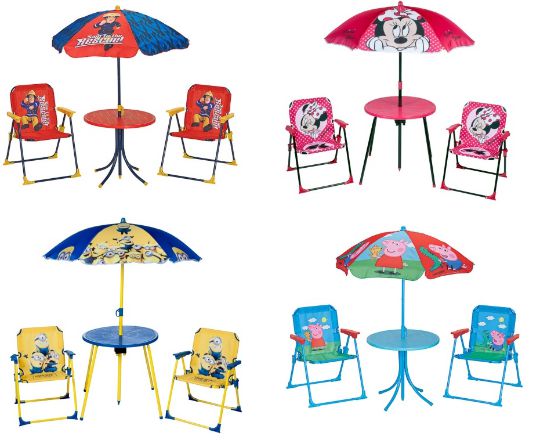 If you have a B&M store nearby then you night want to check out their garden clearance, as they are advertising some great prices on their website. These character Children's Patio Furniture Sets caught my eye, as they have been reduced down to as little as £14.99.
These are 4 piece sets with a table, a parasol and two chairs, and there are several different designs available. For £14.99 you can get Fireman Sam or Minnie Mouse sets. The Minions furniture set is now £17.99, and the Peppa Pig one is £19.99.
All of these can only be bought in store as B&M Retail do not offer online shopping, so all these products are subject to availability. The B&M website advises you to contact your local store to check if they have stock, and you can find their details on the Store Finder here.
There are all sorts of other pieces of garden furniture for children that have been reduced, so if they don't have the set you want in your local store there are lots of others on the link above.