JCB Chunky Trucks Set £15 @ ELC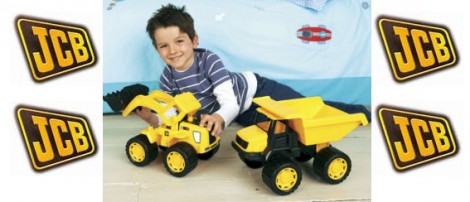 This JCB Chunky Trucks set is now half price at the Early Learning Centre; originally £30 it's been reduced to £15.
Diggers have been part of my life since my youngest fell in love with JCBs and learned all about Joseph Cyril Bamford. He was the only nearly-three-year-old I knew who could tell you all about the history of the JCB.
We have books about diggers and JCB trucks; he loves going to Digger Land (if you have a little digger fan then we can highly recommend it! His favourite song is the JCB song by Nizlopi…you're getting that he loves diggers, right?
Short of a full-sized JCB there isn't really anything JCB left that he doesn't already have.
However, if you're little digger driver or construction engineer is just building up his fleet of vehicles then I'm sure they'd be pretty excited by these two JCB Chunky Trucks.
They're suitable for kids aged three and over and I think it's only fair to warn you they're going to get covered in mud and dirt at the earliest opportunity (JCB Chunky Trucks AND your child) and your favourite garden borders will be requisitioned for construction site role play.
Delivery is £4.95 and within four working days; it might be worth popping in to your local ELC store (or make a phonecall) to see if this JCB Chunky Trucks set deal is available in-store too, you might be able to save yourself the delivery cost.