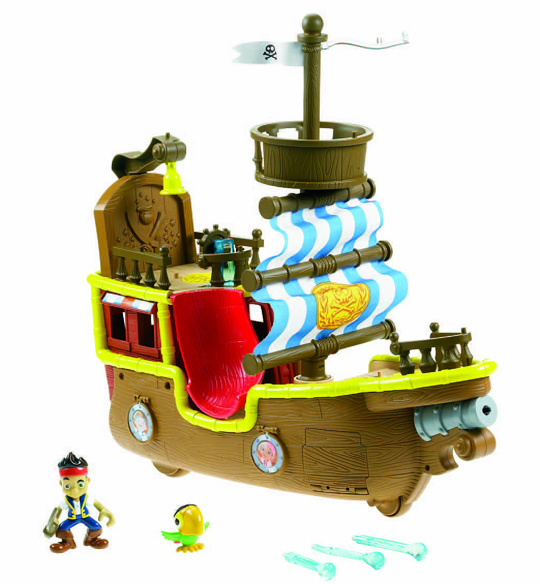 If you have a Jake and the Neverland Pirates fan in your family, or circle of little friends, and they don't have a Bucky the Pirate Ship, then you might want to take a quick click over to Asda - they're selling Bucky the Pirate Ships for £30.  There's debate as to the rrp - some say it's £49.99, but the Asda site lists it as being £39. Either way, it's still a good little deal for a Jake and the Neverland Pirates fan.
I'll be honest, I don't know anything about Jake and the Neverland Pirates, but knowing kids I have a fair idea how popular he must be, and you can do LOTS with Bucky the Pirate Ship - he's not just a model.
You can load the cannon with the water ball projectiles and press the button to shoot them - uptick for that feature, all kids love firing things!  You can place Jake in the hot spot on deck to see the infamous Tick Tock Croc explode out the side of the hidden trap door with his jaws chomping away like crazy - another uptick there methinks, and will prompt daft amounts of giggling.
Then you can attach Scully to the crow's nest so you have a lookout.  There's also a working slide for everyone (well the figures, obviously not everyone!) to slide down.  You can also roll Bucky around and he rocks side to side as if he was really sailing in the ocean.
If that's not enough for you, there are over 25 sound effects, Jake phrases, and the theme song and Bucky also comes with Jake and Skully figures too - see, a bit of a Bucky bargain!
Thanks to jambuniojess at HUKD