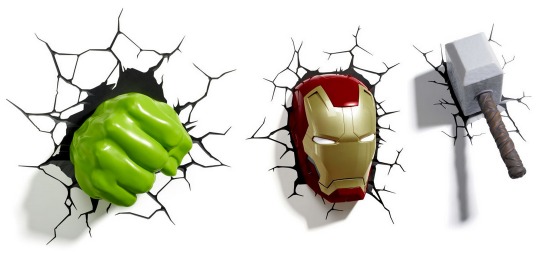 I won't be coy about this - I think these lights look fantastic, and if my other half would let me I'd have all three. These cool 3D lights are available in lots of different designs, but Zavvi have reduced three of them down from around £28 to £19.99 with free delivery. You have a choice of either Hulk's Fist bursting through the wall, Thor's Hammer smashing it down, or Iron Man bursting through.
These are 3D decorative cordless lights that are battery operated, so you can put them up wherever you want them. The 'smash' effect is a sticker that you put in the wall around the light. Clever eh?
The Spiderman one is selling at £28.99, and we told you about the Olaf one when it was available on pre-order, but that has also increased in price to £28.99.
If you know someone who is a superhero fan then they will love these Marvel 3D lights. Yes, they're probably aimed at children, but they're sold in the merchandise section of the Zavvi website, and they have a picture of Hulk's Fist on an office wall, so I'm taking that as permission for adults to like them too. If I'm only allowed one then I'll choose Hulk... I think...