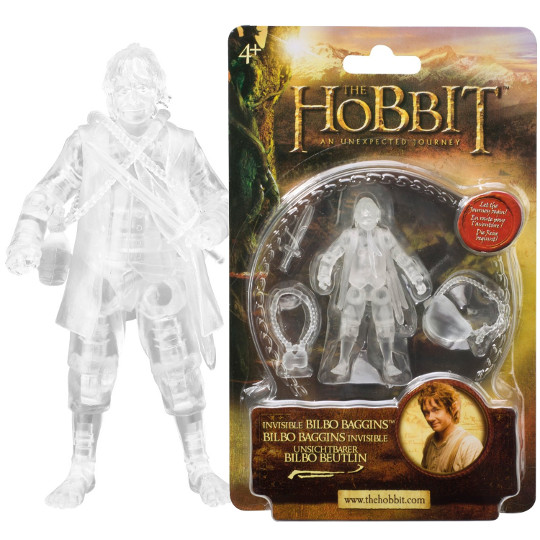 Will The Hobbit fever reach the pitches of Lord of the Rings? I'm not sure, but the movie is out and the cashing in has begun. Amazon have an exclusive Invisible Bilbo Baggins figurine on sale already, reduced from £7.99 to £2.69, making for a totally noticeable 66% discount.
Actually, I wasn't sure at first whether this was some kind of spoof, because the comments surrounding it, both on HUKD and on the reviews on Amazon were all sorts of ridiculous jokes, so much so that I thought it wasn't actually a real thing. Fortunately there was one sensible commenter who is a collector, and said this is a 3.75" figurine and that it's not as well made as the Lord of the Rings ones, but still thinks it's a great action figure.
The figurine is based on The Hobbit: An Unexpected Journey. It replicates the facial features, clothing, weapons and accessories of Bilbo Baggins in his invisible state while wearing the Ring, featuring authentic detail of a key character from the film.
The blurb says it features 12 points of articulation, but I have no idea what that means. If you do, please, do tell.
The figurine Bilbo Baggins is suitable for children from the age of four and up.
Thanks to mikegash at HUKD