Hamleys Wooden Little Ark For £24.00 @ Hamleys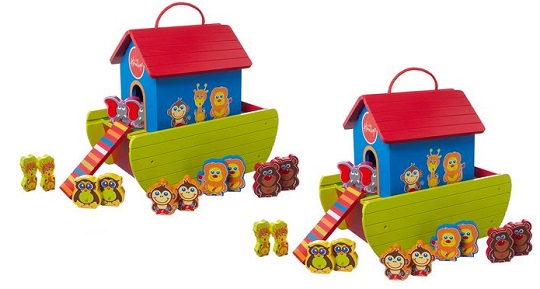 Save a lovely £10.00 when you go buy the Hamleys Wooden Little Ark from Hamleys today. The Ark set comes with the wooden ark and pairs of animals and is reduced from £34.00 to £24.00, awesome.
We all know the story of Noah and his Ark and how when the rains came he was the only one prepared for them. He filled the Ark with pairs of animals, "two by two". You can now bring the story to life for your kids with the Hamleys Wooden Little Ark.
Pile all the animals into the Ark handful by handful, backwards and upside down, hoorah hoorah... Children will have hours of fun with this colourful and durable wooden play set. The set is supplied with a Hamleys Ark and a selection of animal pairs; the Hamleys Little Ark is a great way of encouraging early role-play and imagination skills and developing hand-eye co-ordination through the power of play. The Hamleys Little Ark has been crafted from top quality Schima superba wood to survive the rains.