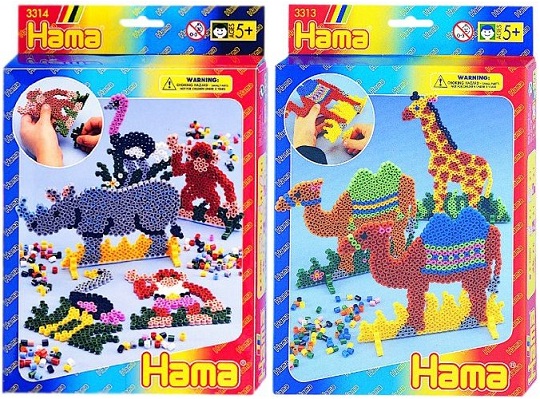 Mail Order Express has two versions of the Hama Beads Animal Boxes on sale. Both contain 2000 beads. There's the Animal Box Rhino & Monkeys, and the Animal Box Camels & Giraffes. Great for the present drawer, or for the rainy day box. Or just for any child who really likes these Hama beads.
Both sets include the 2000 beads, and six bead board supports. Also ironing paper and instructions. There's a giraffe pegboard and a camel pegboard in one set, and a rhino pegboard, ostrich pegboard, and a monkey pegboard in the other. The recommended age is five years plus.
If you're not familiar with these, Hama beads are little round beads of plastic with a hole through the middle. You place the beads on the pegboard to make a shape, and then iron over the beads with a warm iron. This fuses them together, and the shape can be lifted whole off the board.
Kits like this can be a great way to get kids started. Be warned though, you can get huge tubs of Hama beads, and once they understand how it works, children can really get into making them. A nice way to help them exercise their imaginations, and spend some time doing arts and crafts. But you may need to create some display space in the house!