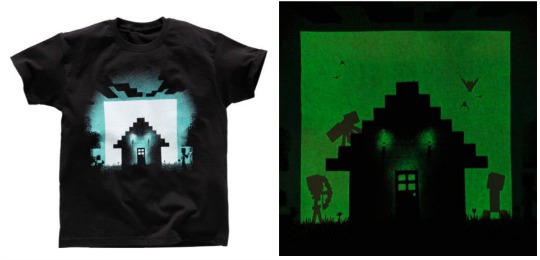 Look what's new in at Argos! There are several new Minecraft t-shirts for kids, and they are all £7.99 but one of them glows in the dark! That's a very good price, especially as the adult size is around £20 in online stores.
It's called Survival Glow T-Shirt, and in the dark a new image is revealed... of a Creeper, a Spider and a Skeleton about to attack your shelter. Very spooky.
The glow in the dark Minecraft t-shirt is available in ages between 6 and 13 years, is 100% cotton and machine washable. The link will take you to the 6-7 years size, and you can use the tick box to select the correct size as each have a different item number.
It's in the boys clothing section, though I see no reason why girls shouldn't wear it if they are Minecraft fans - not all girls like pink and princesses Argos!
As it's new in, stock levels are great everywhere, so you can opt for home delivery for £3 or use the free reserve and collect service.