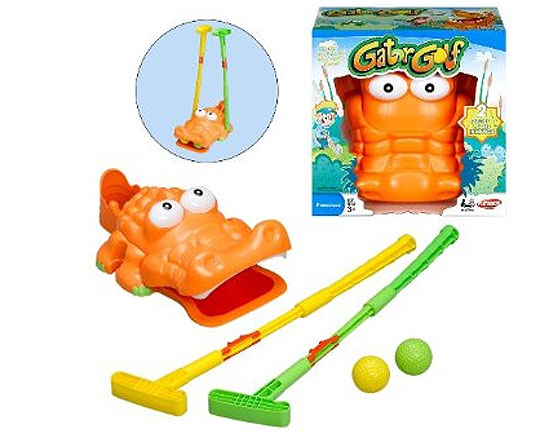 Boots are selling this great Gator Golf game for £4.50 - it's the cheapest price I've ever seen it for (the last cheapest was £4.83, back in July last year) and it's most definitely worth buying at this price (its usual price is £18).
I've played plenty of Gator Golf games in my time - my youngest son has it, you see, and, as far as he's concerned, he's a budding little Rory McIlroy.
I'm rather competitive and I don't 'do' doing things badly very well at all; it drives me nuts, so even when it comes to putting a ball into an alligator's mouth, I have to do it well.  Edward is the same and so, as you can imagine, hours and hours of putting practice have been put in, courtesy of Gator Golf.
As a result, we are both pretty awesome when it comes to Gator Golf putting - all you need to do is putt the ball into the gator's mouth and he'll flick it back to you with his tail; each ball in the mouth is worth one point and you need just four points to win the game - if that gets too easy then you can simply rewrite the rules and bump up the required number of points to win.
Aside from the fun element of Gator Golf, it's great for developing hand eye coordination; I think you'll like it and who knows maybe you'll have the next Rory McIlroy on your hands in a few years!
You can arrange to collect your Gator Golf in-store but that's only free if you spend over £20, otherwise it'll cost you £1.95 and will only be ready within three to five working days - come on Boots, sort that out - collection from store should be FREE, regardless!  OR, you can pay an additional £2.95 and have it delivered to your home within four working days.
Thanks to khye_shayela at HUKD