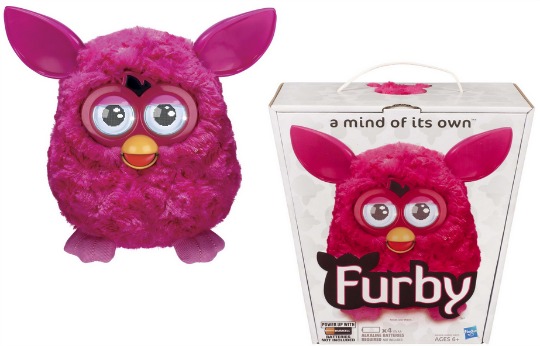 Furby, the toy that is played with the most in our house. My kids go daft for their's, from my nine year old to my teeny tiny eleven month old. They don't come cheap though unless you get over to Amazon today and scoop the pink one for just £19.99 with FREE Super Saver Delivery included. It is being sold by reputable Amazon Seller Family Sale UK. This may not be a Furby Boom but it is a much more improved version of the original Furby.
The Furby Plush Interactive Toy features LED eyes that are expressive and match the Furby's feelings.  Put him in the vicinity of other Furby's and the yapping will commence. My son gets Golden Time at school and a fair few of the kids take their Furbys/Furbies/Furbi into school to annoy their teacher.
Furby will dance, sing and will express his/her personality. It can speak two different languages: Furbish and English. I like to feed it because it makes funny noises. By pulling it's tail, turning it upside down you will be able to see a reaction from him.
Thanks to HayleyWarden5 @ HUKD