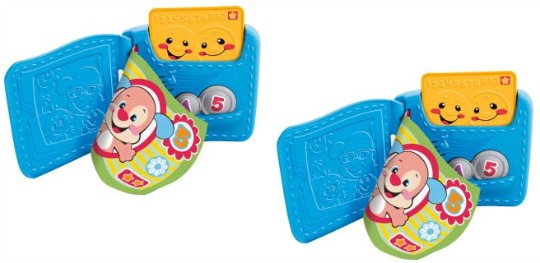 Fisher Price Laugh & Learn Wallet normally sells for around the ten pound mark. This sold out quickly half price at £5 from Boots.com and is only £3.99 at Argos.
The Fisher Price Laugh & Learn Wallet is ever so cute. A little purse for a little one, it's suitable for six months and over. Open and close it to activate the learning game.  It has songs and games to entertain your tiny tot.
Your baby can play peek a boo with the card feature by sliding it in and out. This will hopefully prevent them touching adults purses and wallets. My eldest was the worst for playing with my purse and used to put coins into the lock of my front door. This ended up costly as he had wedged one in and I had to phone a locksmith. If only I had one of these Fisher Price toys.
Baby can play games to teach them how to say hello and goodbye, easy first words and the concept of opposites. I think just the fact it is a wallet is enough without the interactive functions. Kids love role play toys and I don't think this will be an exception to that rule.
You can reserve and collect the Fisher Price Laugh & Learn Wallet from your local Argos store for free or have it delivered for £3.95.