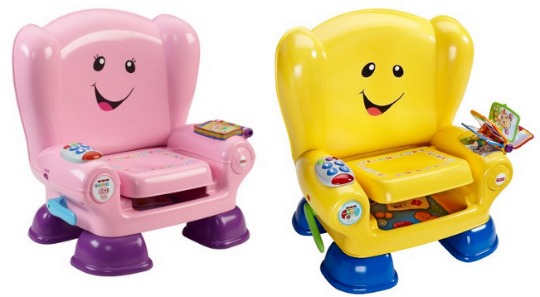 This Fisher Price Smart Stages Chair sells for £32.99 at Toys R Us and £29.99 from Argos. It's ONLY £21.79 from Amazon including their FREE Super Saver delivery. This is a seriously good price for this! If you have a child around the age of one/two years old then this is an excellent option for Christmas. Plus it's available in two colours; pink and yellow.
If you quite fancy the pink Fisher Price Smart Stages Chair, then it's dead simple. Just click the link above and select it in pink from the options shown. Both colours are the same price, so all is good!
This is not just a little cutesy chair for your little one to sit on, oh no! It boasts so much more, as it is jam packed with interactive features like : over fifty phrases and songs. This toy has the ability to adapt as your child grows, as it has three different levels of play to suit your child's stage. The select the correct stage just simply enter your tot's age into the toy. It also includes a  flip book and a remote control.