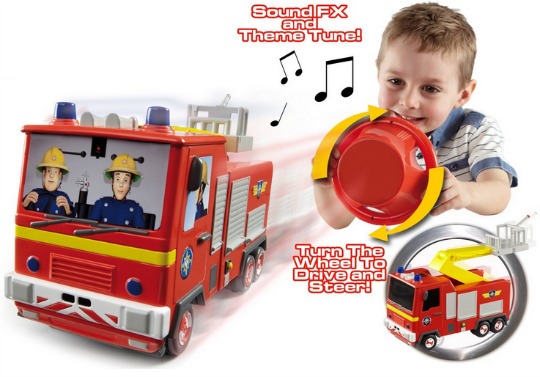 If you LOVE Fireman Sam, then you need to have a look at the amazing price Amazon have this Fireman Sam Jupiter Drive & Steer toy. They are offering it for only £17.66 with FREE DELIVERY. This costs £24.99 at Tesco Direct, Argos and Toys R Us, and that's without postage included. What are you waiting for?
This Fireman Sam remote controlled fire engine comes with a steering wheel to navigate Jupiter with. It can be manoeuvred back and forth, and directed with the turn of the wheel. If there is an emergency then worry not, the turbo mode can be activated along with a siren. If you don't fancy hearing the Fireman Sam theme tune fifty times in a row then all you have to do is press the mute button. Why don't all toys have this?
It is suitable for children aged one and a half and above. Toys like this are great for improving hand eye coordination in little ones. Be prepared for furniture to be bashed because my eight year old still manages to do this with every remote controlled toy he uses.
The Fireman Sam Jupiter Drive & Steer toy requires a mammoth eight AA batteries so don't forget to stock up on these before it arrives, or you will have one very disappointed child on your hands.