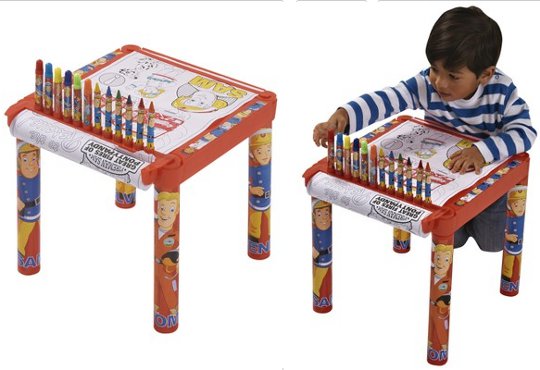 There's this rather funky Fireman Sam Colouring Table on sale at Very for just £7.50 – half price.
I really think this is a pretty nifty idea, and it's probably been around for ages, but it's the first time I've seen it.
Basically it's a table – which is apparently easy to assemble, as you simply push the four legs into the table top – with a 10m colouring roll which you feed through to have constantly changing pictures that don't end up lying all over the house.
There are also six markers and six jumbo crayons with spaces specifically for them. They're also all wrapped in Fireman Sam packaging, as are the legs and sides of the table. (There's really no doubt that this is a Fireman Sam table!)
I'm not sure what happens when your 10m are finished though. You could probably get a blank roll of paper from your local art supplier though, but no guarantees.
There are a couple of reviews of this, and the recipients seem pretty happy with it and say they'd recommend it, so it seems like a pretty good idea!
Thanks to deanos at HUKD