 Fifi Forget-Me-Not is a flowertot who lives in Forget-Me-Not Cottage and spends her day cultivating her beautiful garden, without nasty chemicals and with the help of an array of Flowertot friends and cousins.
This cute little cottage is a bargain at this price and comes with 2 Flowertot characters, dancing flowers, a hidden flowerpot ring and lots of other fun accessories.
It's suitable for Flowertot fans aged three and up, and judging by the reviews on the Argos site it's an absolute hit with little ladies. It scores an average 4.7 stars out of a possible 5 and each of the 18 reviews are glowing. People say it's great for developing imaginative play and that the design of the toy is especially clever.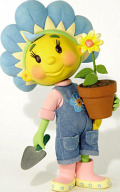 As well as ordering one online, you can reserve this product to collect instore at your convenience, subject to store stock. But don't hang around, as I predict these will fly off the shelves.
At this price, even if you've done all your Christmas shopping it's worth picking one up and putting it away for the next time you need a gift to take along to a little Flowertot's birthday party.