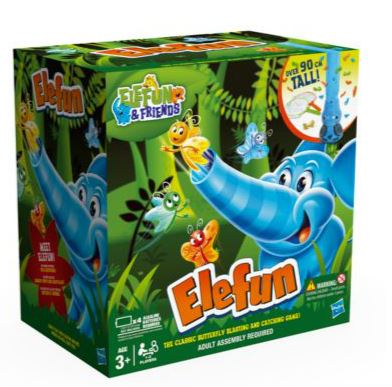 Argos have the Elefun game reduced by half price, and selling at £8.99. The same one is £17.95 at Amazon, and Boots has it for £18.
A while ago I saw one of these in a charity shop for next to nothing, and I didn't know what it was, so I left it. Since then, two of our friends have brought these out during play dates, and the children go absolutely crazy for them!
They're the perfect indoor day kind of game, because they get them excited and running and jumping and burning off excess energy, which is never a bad thing.
The idea is that you put the 'butterflies' inside the elephant, and switch it on. It then blows them out through it's trunk and children run around with nets and try to catch the most butterflies. The one that catches the single yellow butterfly is the winner.
The only negatives are that there are no mains battery chargers and it chews through batteries like crazy, but Saversaver at HUKD recommends buying a battery adapter to convert rechargeable AA batteries into C batteries, which apparently saved them a fortune.
Thanks to goonertillidie at HUKD