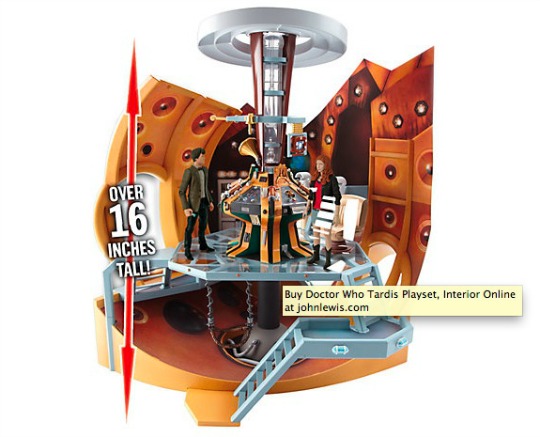 Doctor Who fans will love this Doctor Who Tardis Playset, and at John Lewis it's currently £23.51 instead of the usual price of £33.59.
I've never seen this Doctor Who playset before which is probably for the best, since the Doctor Who fans in my life would have been clamouring to get their hands on it before now otherwise. It's a reproduction of the console room of the Doctor's time machine (bigger on the inside, of course), but according to the product description and the customer reviews there is some discrepancy over whether the 5" action figures come with it, so do bear that in mind before you buy. I don't see any of the figures currently for sale on the John Lewis website so you may need to shop around to track them down. There are several other Doctor Who playsets currently on special offer at John Lewis too, including this Deluxe Tardis Playset, so it's worth having a good rummage around.
Here's a farly typical customer review, which suggests otherwise:
"I was really pleased when I bought this for my nephew who is a big Dr. Who fan. It is much more robust than some of his other Dr Who playsets and I think it will last. I also was really pleased that it came with a 5 inch Dr Who figure (of the doctor) which is not mentioned in the description, and a micro Dr figure. Great value as bought when on offer."
The Tardis playset measures H46cm x W44cm x L34cm and is not suitable for children aged three years or younger.