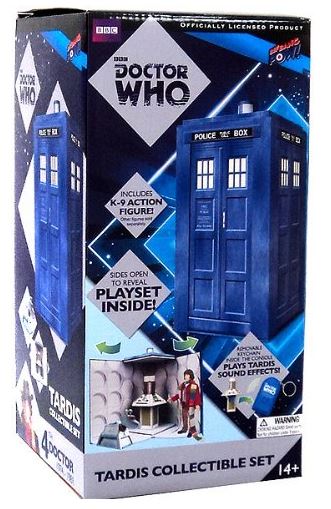 Toy Realm has special offers on their deals of the day, and one of those offers is for the Doctor Who TARDIS Collectible Set with K-9 Figure for £48.54. Amazon have the same thing for a couple of pennies less, but there are only two in stock. Since this is just a little more expensive - 6p - and delivery is free too, but at least these are in stock. 
For those of you who have a love affair with the Doctor, I believe a Tardis is essential house hold decor, right?
Well, here's one for you.  This Doctor Who TARDIS Playset with K-9 Action Figure's amazing interior features a detailed Master Control Console. It is made of thick dollhouse-like cardboard in a retro 1970s style and includes a bonus figurine of the Doctor's trusty cyberdog, K-9.
The Tardis is approximately 11-inches tall x 5 1/2-inches wide x 5 1/2-inches long when closed, and includes an opening door and a transparent time rotor that can be raised and lowered.
If you're a Toy Realm regular shopper, you can also take advantage of their loyalty system, and bag yourself 24 points with this purchase.