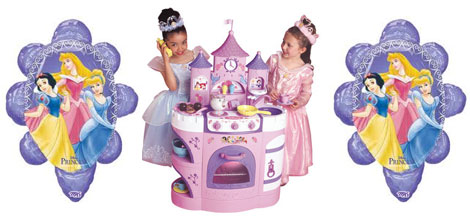 This Disney Princess Kitchen is the sort of toy that fills me with horror; my daughter would have LOVED it when she was small and so might yours.
Your little princess will be able to fulfil her dreams of cullinary domestic drudgery role play with this Disney Princess Kitchen.
She'll be able to slave over a (pretend) hot stove for the other members of the royal household and then, lucky her, she'll even get to wash up, dry up and put away afterwards.
I ask you, what more could a little girl aspire to?!
It's a good thing my job is just to tell you about deals I come across, rather than try and SELL it to you - I think I would get a black mark against my name for this one.
All of that said, this Disney Princess Kitchen does come with a lot of features.
It says says 11 fun phrases and makes realistic kitchen sounds: the recipe book will give you 'magical' cooking ideas when you turn the pages, the tap makes water sounds and the oven talks - ohhh be still my beating heart! (ohhh I SO need a sarcasm font!)
It come with 18 accessories which include Mrs Potts, a frying pan, phone, cups and saucers plus other bits of kitchen paraphernalia.
The Disney Princess Kitchen is currently half price at £39.99 and is available for home delivery or in-store collection.
Thanks to wii expert over at HUKD